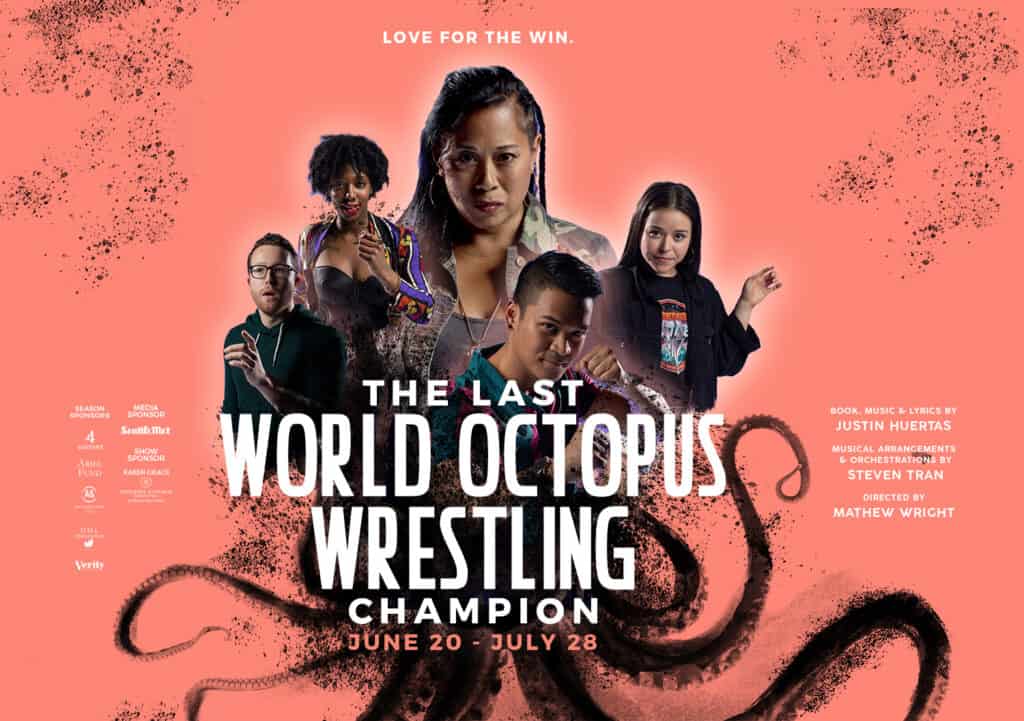 THE LAST WORLD OCTOPUS WRESTLING CHAMPION
June 20 – July 28, 2019
Book, music and lyrics by Justin Huertas
Gregory Award-winning playwright of LIZARD BOY
Senior year (and falling in love) is hard enough, but when the discovery of her mother's old trophy throws open the locked doors of the past, a young girl must reckon with a world turned upside down – and the arrival of strange new abilities that seem to hint at a destiny beyond her wildest imaginations. Taking rich threads of Puget Sound history and folklore, musical mastermind Justin Huertas weaves a thrilling modern myth of love, family, and transformation.
---
"Justin Huertas is one of those people who seemingly can do everything." – KUOW
"[Huertas's] songs liven up the action…His talent for choruses and his humor shine." – The StrangerCast
Rachel Guyer-Mafune 
Lee
Rachel Guyer-Mafune is stoked to be back at ArtsWest after appearing in their recent production of M. Butterfly. She is an ACT Core Company member, and a member of Washington Ensemble Theatre. Past credits include: Feathers and Teeth, Teh Internet is Serious Business (Washington Ensemble Theatre), The Wolves, A Christmas Carol (ACT), Prelude to a Kiss, How I Learned to Drive (Strawberry Theatre Workshop), Howl's Moving Castle, a New Musical (Book-It Repertory Theatre), A Winter's Tale (Seattle Shakespeare Company), The Lost Girls, and Puny Humans (Annex). 
Corinna Lapid Munter
Grace
Corinna was last seen at AtsWest in the critically acclaimed production of Sweeney Todd in which she received a Gregory nomination for her portrayal of Mrs. Lovett. She is over-the-moon excited, thrilled and honored to be a part of this amazing new  work. To have a show written for you is one thing…..but to have it written by Justin Huertas puts it on a completely different level. Thank you Justin for taking parts of my life and my words and making them into something so poignant, beautiful and bad-ass!!  Thank you ArtsWest for supporting and embracing works like this. Keep on keepin on!!! And finally to Caitlyn, my Boo. You are my inspiration and my Universe. Without you I wouldn't be who I am.  Hearts, Kevin. Regional credits (partial):5thAvenue – Hunchback of Notre Dame, Candide, Sweeney Todd, Elf, Cinderella, Titanic: The Concert, Pirates of Penzance, Sound of Music, Hello Dolly, The Music Man. Village – Into the Woods, In the Heights. Seattle Children's – Pero.
Christian Quinto
Todd
Christian Quinto was last seen as Dennis in Office Hour here at ArtsWest.  He's ecstatic to be cast in Justin Huertas' new musical alongside these talented and beautiful Seattle artists. Quinto was born and raised in the Philippines, then moved to Hawai'i when he was 14 years old, but now calls Seattle home. He made his Seattle theatre debut in Seattle Repertory Theatre + Public Works Seattle's production of The Odyssey, directed by Marya Sea Kaminski. He's a big fan of curry, boba tea, and Filipino representation and visibility on stage and screen. Other select credits: Gabe in Next To Normal, Sky in Mamma Mia!, Jane Eyre: The Musical (ArtsWest), Filipino Folktales and Fables (Honolulu Theatre for Youth), and Pageant (A Sensible Theatre Co.) "Huge mahalo to my family, friends, and mentors for their endless love and support!" www.christianquinto.com(Instagram: @cjquinto)
Tyler Rogers
David
Tyler is a Cornish grad who was recently featured in several developmental productions, including Breakup Bench by Rheanna Atendido, The Lamplighter by Justin Huertas, Sara Porkalob and Kirsten deLohr Helland, and Imaginary Opus with Ese Teatro & Sound Theatre Company. You may have seen him previously in Howl's Moving Castle at Book-It Repertory Theatre or performing with A Sensible Theatre Company's Queer Cabaret. Thank you for supporting New Work and inclusive storytelling!
Porscha Shaw
Nia
Porscha is honored to make her Arts West debut! Shaw, recently played the role of Sweet Thing in Seattle Rep's Four Women. She is a graduate of the Professional Actor Training Program at the University of Washington. She is a native of Richmond, Texas and a graduate of Santa Fe University of Art and Design where she majored in Drama under the training of Jon Jory. Her recent Seattle credits include: Seattle Shakespeare's Richard III, Seattle Children's Edward Tulane, Lamplighter (curated by Sara Porkalob), 12 Ophelias, By The Way, Meet Vera Stark, Sound Theatre's Hoodoo Love, As You Like It, The Octavia,  Iphigenia and Other Daughters, Wooden O's Love's Labour's Lost, and Force Continuum.
Creative Team
Jessamyn Bateman-Iino
Jessamyn (they/them) is a props designer based in Seattle. Past favorite shows include The Twilight Zone: Live! at Theater Schmeater, and Trevor at MAP Theatre. 
Alyza DelPan-Monley
Choreographer
Alyza DelPan-Monley is a Seattle-based dancer and choreographer, seeking to brighten her surroundings with splashes of whimsy, human connection and goofy possibilities. Her work has been performed Seattle International Dance Festival, Cafe Nordo, Book-it Repertory, Washington Ensemble Theater and Strawberry Theater Workshop. She performs regularly with Tim Smith-Stewart and Jeffrey Azevedo, MALACARNE and DONNA.
Jocelyne Fowler
Costume Designer
Jocelyne Fowler has designed for ArtsWest (Office Hour), Seattle Shakespeare Company (Arms and the Man, Timon of Athens, Mrs. Warren's Profession, Titus Andronicus and Richard II), Book-It Repertory Theatre (Jane Eyre, Treasure Island, Emma, Pride and Prejudice, Frankenstein, Anna Karenina, etc), Taproot Theatre (Arsenic and Old Lace, Lady Windermere's Fan, A Civil War Christmas), Youth Theatre Northwest, Harlequin Productions, Tacoma Musical Playhouse, Seattle Musical Theatre, Vashon Opera, and others. She is the recipient for the 2016 Gregory Award in Outstanding Costume Design.  
Kaya Hubbard 
Stage Manager
Kaya Hubbard is happy to be returning to Artswest, where she worked as a House Manager last summer. She is going into her senior year at Sarah Lawrence College working towards a BA in Liberal Arts with a focus in technical theatre and poetry. She has stage managed in New York for TreePop at HERE Arts Center and A Held Posture at TheatreLab. 
Zanna King
Lighting Designer
Zanna King is a Seattle-based freelance lighting designer and master electrician, having been involved in theatre in some capacity for the last 22 years and studying lighting for the last 12. They are particularly proud of their efforts in lighting original plays and musicals and also enjoy volunteering their skills for companies such as Equity against Aids (Broadway across America), Phillips Lighting and local educational centers.  
Lex Marcos
Scenic Designer
Lex is from Manila, Philippines. He studied Painting and Art History at the University of the Philippines, Diliman. He designed sets in Manila for eight years, working with acclaimed Filipino directors, designers, visual artists, and playwrights. He recently got his MFA degree in Scenic Design last March 2017 in UW School of Drama. After that, he then started designing shows in town: We are Pussy Riot and Everything is PR for Theater Battery; back to back designs for ArtsWest, The Who and The What ,The Nance; Jayne Eyre and Madame Butterfly. American Huwangap for West of Lenin; Welcome to Arroyo's for Theater Schmeater; Seattle premiere of the Musical 'Disenchanted'; #Nowall for Theater Battery; Native Gardens , Caught  for INTIMAN Theatre ; 'B' for Washington Ensemble Theatre . He received an award from Broadway World Philippines for best scenic design in a musical for Manila premiere of The Little Mermaid. His works Ang Post Office ng Hari and Umaaraw Umuulan Kinakasal Ang Tikbalang have been selected for Philippines exhibit in the Prague Quadrennial of Performance Design and Space in 2011 and 2015.
Claire Marx
Music Director
Claire works as an actress, musician, and teaching artist throughout the PNW and is excited to be making her debut with ArtsWest! She recently finished band-leading 'Always, Patsy Cline' at Taproot Theatre, 'The Spitfire Grill' with Showtunes and is currently on tour with Book-It Repertory's educational department playing Circe (and more!) in 'The Odyssey'. Other acting credits include: 'Hairspray' (Village Theatre), 'The Lion, the Witch and the Wardrobe' (Seattle Children's Theatre), 'Goblin Market' (Sound Theatre Co.), 'Bohemia' (Marxiano Productions), 'Romeo and Juliet' (Seattle Shakespeare Co.), 'Settle Down Ladies' (FILAMENT Colab Lab) and an exciting new workshop of 'The Undesireables' (Seattle Repertory Theatre). She is currently on faculty in the Theatre department at Cornish College of the Arts. In her free time she can be found deep into true crime podcasts, reading everything, and exploring Seattle.  Love and thanks to her family for their continual support and encouragement!
Haley Parcher
Sound Designer
Haley is thrilled to be joining the team for this beautiful production! Previous ArtsWest designs include American Idiot, Violet, Death of a Salesman, The Nance and Jane Eyre. Haley works as a freelance sound designer and engineer around the Seattle area. Some of her favorite recent associate credits include We Live in Cairo (American Repertory Theatre), Tommy! (Broadway Center Stage at the Kennedy Center), Marie, Dancing Still (5th Avenue Theatre), Matilda and The Curious Incident of the Dog in the Nightime (Village Theatre). Love to Brent and her parents!
Steven Tran
Musical Arrangements & Orchestrations
Steven Tran is a multi-hyphenated theater artist. The Last World Octopus Wrestling Champion is Steven's third collaboration with composer Justin Huertas, after working as co-arranger on Howl's Moving Castle and Northwest Bookshelf.  Steven's original music was heard underscoring The White Snake (ReAct Theatre) and Romeo and Juliet (Off-Road Shakespeare), and can be heard this summer at Wooden O. Steven has worked on musicals at theatres around the city including Seattle Repertory Theatre, the 5th Avenue Theatre, Village Theatre, Book-It Repertory, SMT, and A Sensible Theatre Co. He has appeared onstage with Seattle Shakespeare Company and Taproot Theatre, and was a director in the 2018 Intiman Emerging Artists Program. Steven is the playwright/performer of The Sonata Years, an autobiographical actor-musician solo show, which was last performed in an extended run at 18th & Union, and will be workshopped at Seattle Rep this summer under the direction of Sara Porkalob. Steven holds a BA from Princeton University, where he studied Computer Science and Theatre. @snk_tranJustin Huertas Debuts New Musical at ArtsWest – Seattle Magazine
Playwright Justin Huertas talks myths, music and octopus wrestling – Crosscut
Justin Huertas' musical all about Fil-Am 'octopus-wrestling mom' – Inquirer.net